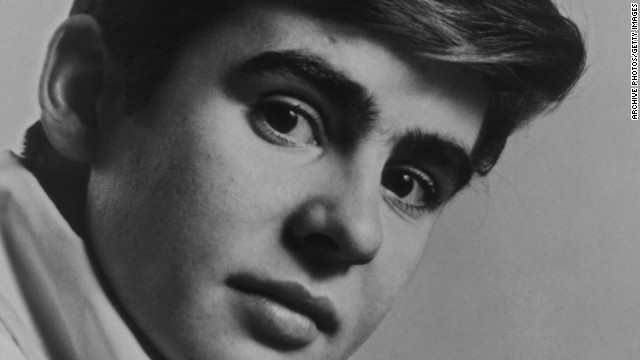 British singer and actor Davy Jones poses for a portrait around 1960. Jones, whose charming grin and British accent won the hearts of millions of fans of the 1960s television series "The Monkees," died Wednesday, according to the Martin County, Florida, sheriff's office. He was 66.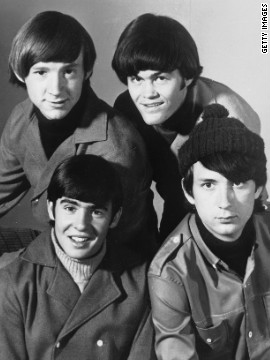 The Monkees -- Peter Tork and Micky Dolenz, top, and Davy Jones and Michael Nesmith -- pose for a group portrait in 1967. The pop group was created to star in an NBC sitcom and capitalize on the Beatles' teenybopper popularity. "The Monkees" TV series premiered in the fall of 1966.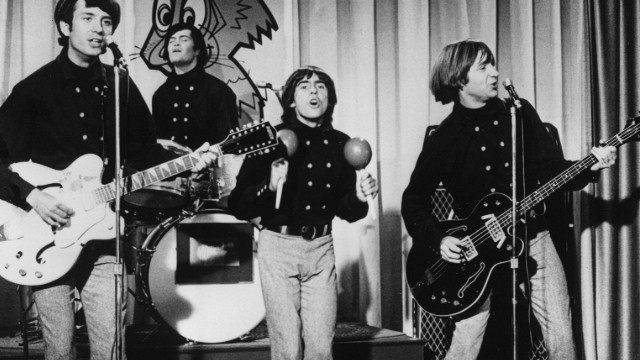 The band performs in 1967. In terms of musical popularity, the project succeeded beyond anyone's expectations, with the group notching a handful of No. 1 songs (including "I'm a Believer," Billboard's top song of 1967) and four No. 1 albums.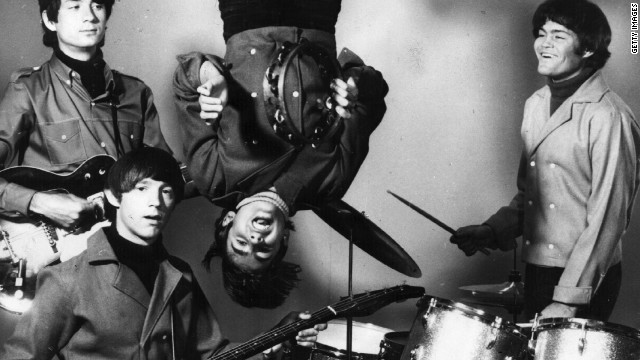 Jones hangs from a trapeze in 1967. Though the TV show was never a huge ratings hit, its knockabout, Marx Brothers-style comedy -- inspired, to an extent, by the loopier sequences in the Beatles' "A Hard Day's Night" -- gained fans and followers, reigniting the band's popularity when MTV reran the show in the mid-'80s.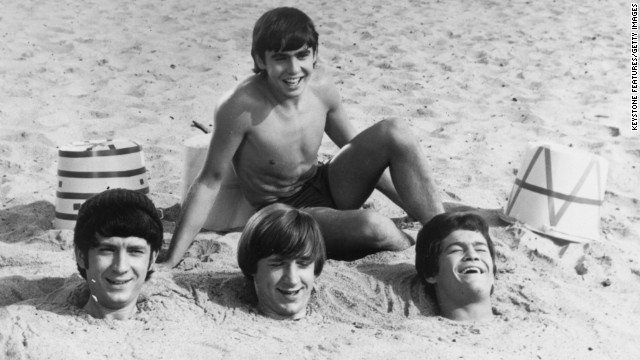 Jones buries fellow members of The Monkees in 1967. The diminutive vocalist and actor sang lead on the musical group's hits such as "Daydream Believer" and "A Little Bit Me, A Little Bit You."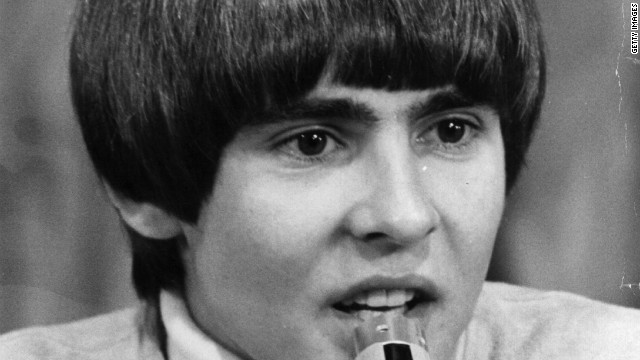 Jones gives an interview in 1967.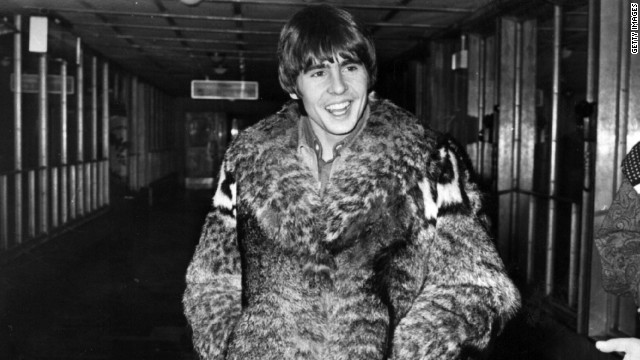 Jones is caught by the camera leaving London Airport circa 1968.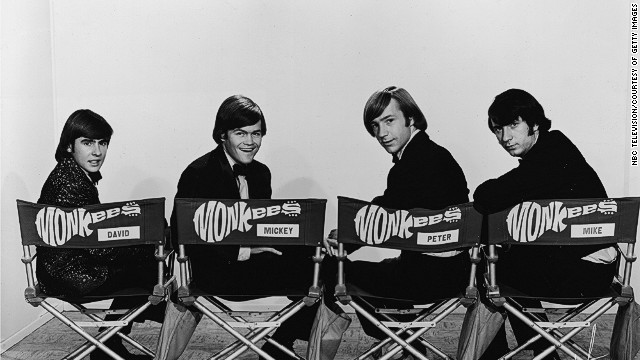 The Monkees pose for an early 1970s promotional portrait.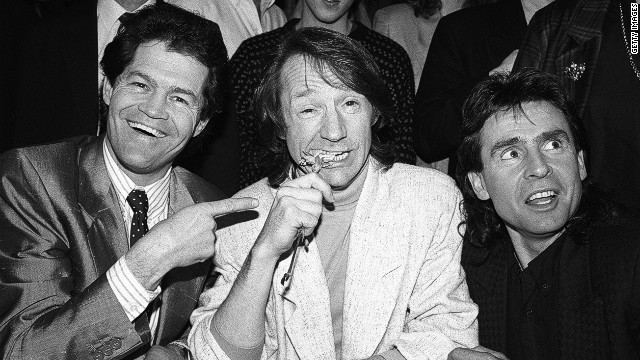 Dolenz, from left, Tork and Jones promote their tour in London in 1989.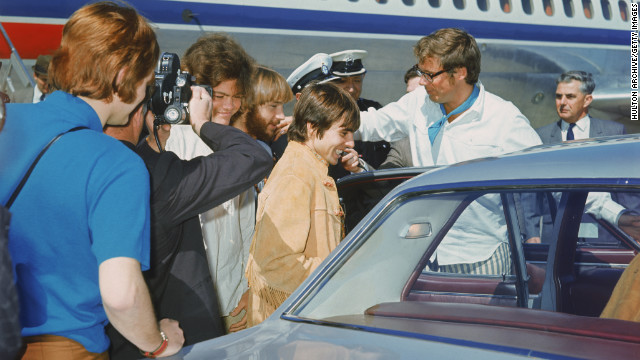 The Monkees arrive at Melbourne airport in Australia in 1968.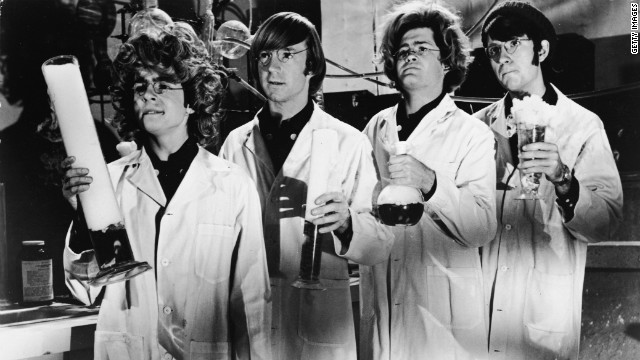 The Monkees dressed as "mad scientists" in the early 1970s for their television show.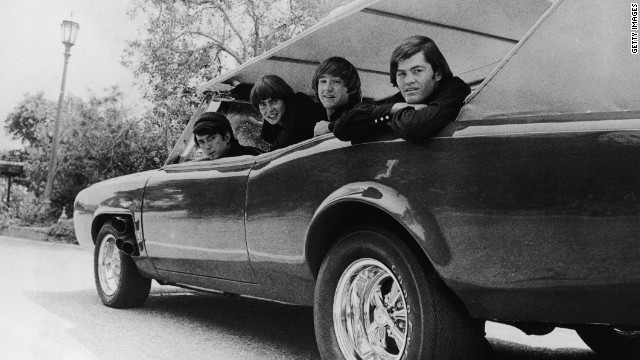 Band members pose for a promotional photo in the 1970's.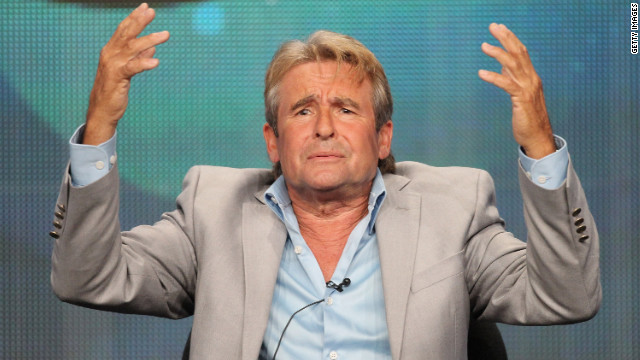 Jones speaks at a panel on "60's Pop Rock: My Music" in 2011 in Beverly Hills, California.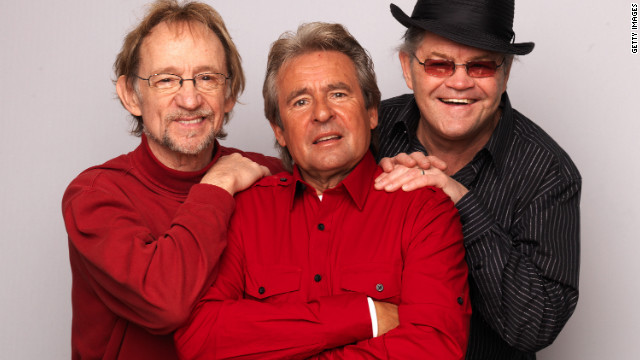 Tork, from left, Jones and Dolenz pose during a portrait session to announce the band's 45th anniversary tour in London in 2011.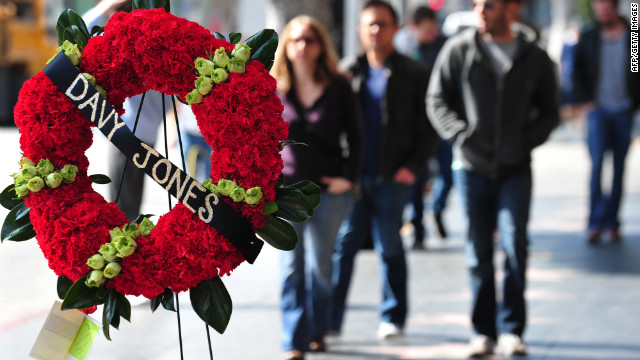 A wreath honoring Jones sits by the Monkees' star on Hollywood's Walk of Fame on Wednesday, February 29.
Davy Jones died of a heart attack at age 66 Wednesday
The Monkees frontman and token Brit captivated audiences with his talent and charisma
Source: People looked up to Jones as "the first person who made them interested in music"
(CNN) -- Davy Jones was more than just the star of countless bedroom wall collages in the late 1960s.
The Monkees frontman and token Brit who captivated audiences with his talent and charisma was the quintessential teen heartthrob.
News of Jones' passing (he died of a heart attack at age 66 Wednesday) prompted nostalgic outbursts from fans, all wanting to reminisce about the Tiger Beat and 16 Magazine covers, the hours logged in front of the TV, and the moments spent bopping around to "Pleasant Valley Sunday."
CNN.com commenter rosemeow wrote: "Sad feeling, when pieces of your childhood start falling away. There goes another piece of mine."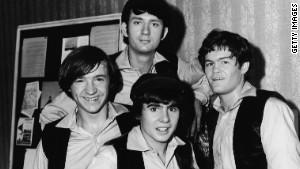 Dolenz: Davy Jones became my brother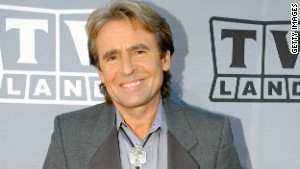 1994: Davy Jones reflects on career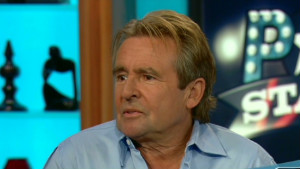 Monkees' singer Davy Jones dead at 66
Whether the grief stems from the feeling of closing a chapter in one's own life, or the larger question of mortality, the death of a former teen idol can have a profound effect on fans.
Like Michael Jackson, who died in 2009, and Whitney Houston, who died last month, Jones was someone younger generations looked up to as "the first person who made them interested in music," said Phil Gallo, Billboard's senior correspondent.
For many people, The Monkees were the first group they could claim as their own, as opposed to the music that belonged to their parents, Gallo added. "That really affects people," he said.
And then there was Jones' teen heartthrob status.
"If you talked to any girl who liked The Monkees, invariably, (Jones) was her favorite," Gallo said. "It's the lead singer. It's the cute one. The one who's got the nice personality."
But that fandom isn't limited to the girls who would've gladly traded a limb for a date with Jones.
"When I was a kid, I wanted to BE Davy Jones," actor Kevin Bacon tweeted. "Big part of what led me to showbiz."
iReport: Share your memories of Davy Jones
A lot of the people who are grieving this loss are in their 40s and 50s, Gallo said, adding, "It's a case of, 'Wow, he's one of me.' People think of him as, 'He's from my lifetime. He's my age.' "
And though it seems like a far departure, that's how today's youths will view pop star Justin Bieber.
Sure, the magazines have changed -- now it's J-14 and Twist -- and Jones' fitted button-down shirts have been replaced by purple hoodies. But the significance of teen idols remains the same. (Ironically, so does the hair.)
In 2008, one year before Bieber earned his teen heartthrob status, Yahoo! Music named Jones the top teen idol of all time, ahead of Jackson and David Cassidy, who shared the honor with Bobby Sherman and Donny Osmond in the early 1970s.
Taking a page out of The Monkees' book, Bieber has taken advantage of this time in the limelight, releasing a memoir, a movie, appearing on "CSI: Crime Scene Investigation," and touring, all while making music.
Jones guest-starred as himself in a 1971 episode of "The Brady Bunch," appropriately titled "Getting Davy Jones." The now iconic episode, in which Jones performs "Girl" for Marcia at her prom, was beloved by fans.
"There's something about The Monkees and what that told us about pop culture and how music and TV and, eventually, film can work together," Gallo said. "This is sort of a lesson that people can still learn from, and it keeps getting repeated five decades later."
The Beatles -- the group that inspired The Monkees -- released "A Hard Day's Night" in 1964. Three decades later, '90s superstars, The Spice Girls, came out with the movie "Spice World."
"The teen idol marketplace is really a two- to five-year window," Gallo said, and that was understood back when The Monkees were at their peak.
But the thing that makes The Monkees different is that their music managed to transcend generations, Gallo said. "Oldies radio or commercials or ... on TV shows, (their music) kept getting used in the '70s and '80s, so when they had a comeback, there was an audience for it."
After first finding fame in the late '80s and mid '90s, New Kids On The Block and Backstreet Boys, respectively, experienced a comeback of sorts when they toured together.
As former fans become parents, and introduce their children to The Monkees, Gallo said, their audience will grow. Not to mention that Smash Mouth's version of "I'm a Believer" appeared in 2001's "Shrek."
CNN.com commenter papanez wrote: "Davy and The Monkees were very special to me. I enjoyed them back in the '60s, I had a blast introducing my daughter to them when she was little, and I very much enjoyed their reunions."
"There will come a day that somebody is going to play The Spice Girls or *NSYNC for their kids and say, 'Let me tell you how great music used to be,' " Gallo said.
"It's kind of hard for us to fathom, but in the same ways someone says 'Pleasant Valley Sunday' is a great song and, 'They don't write (songs) that way anymore,' I'm sure somebody will say that about 'Backstreet's Back' one day."