Hoskins left a mental hospital on February 3
Police said he may have gone to the Long Beach area
He served 10 years in prison for stalking Madonna
(CNN) -- A man convicted of stalking singer Madonna, and who once threatened to knife her, has escaped from a southern California mental hospital and is being sought by police.
Robert Dewey Hoskins, 54, walked away from Metropolitan State Hospital in the Los Angeles suburb of Norwalk on February 3, police said.
Hoskins had served a 10-year prison sentence for stalking the "Material Girl," police said.
"Hoskins is highly psychotic when not taking his medication and has very violent tendencies," Los Angeles police said in a statement. "The public is being warned to notify police immediately if he is found, and to not engage him on their own."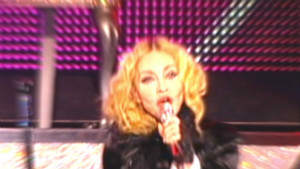 Elton's husband regrets comments
Hoskins may have taken a bus to the Long Beach area. Police said they searched in those areas but have not found him.
He stalked Madonna all over California in the early 90s, CNN affiliate KCAL reported. He threatened to cut her from "ear to ear" if she did not marry him, the affiliate reported.
He was arrested in 1995 and the next year at his trial, Madonna testified that Hoskins repeatedly scaled the fence of her home and made her have nightmares, the affiliate reported.
Fresh off her Super Bowl halftime performance, Madonna is set for a world tour. She will launch the tour in Tel Aviv, Israel, on May 29. The European portion will also have 26 shows, including stops in London, Paris, Milan and Berlin.
The North American portion of her worldwide extravaganza includes 26 cities, with the first tour stop in Philadelphia on August 28.
For more on this story, please go to CNN affiliate KCAL.