Noon funeral is scheduled at Whitney Houston's church in New Jersey
Her death, at age 48, was the final chapter of the storied career that began in the 1980s
Houston's career stalled as her drug use and marriage to Bobby Brown made for tabloid fodder
She was working to turn her career around with a star turn in the upcoming film, "Sparkle"
For complete coverage of Whitney Houston's death, tune in to CNN and HLN. On Saturday, watch Houston's funeral live starting at 11 a.m. ET on CNN TV, CNN.com/live, and the CNN mobile apps.
(CNN) -- A close friend of Whitney Houston's family may have said it best: They would have loved her, even if she couldn't sing.
But how she could sing.
Houston, the six-time Grammy Award winner and only artist to consecutively chart seven No. 1 hits, will be remembered Saturday in the Newark, New Jersey, church where she performed as a child in front of her family and community.
In addition to her family, those expected to celebrate Houston's life at New Hope Baptist Church will include entertainment mogul Tyler Perry; "The Queen of Soul," Aretha Franklin; Grammy Award winner Stevie Wonder; and Academy Award winner Kevin Costner.
The fact that Houston's funeral will bring a coterie of "A-listers" together is hardly surprising. After all, she had worked for nearly 30 years with the best in the business.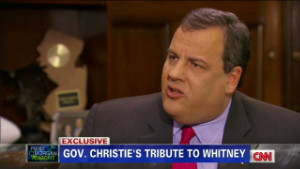 NJ governor on Houston controversy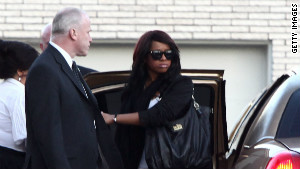 Bobbi Kristina and family attend viewing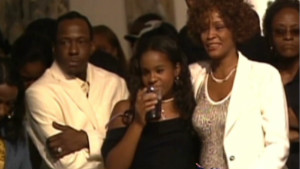 Friend: Whitney and Bobby truly in love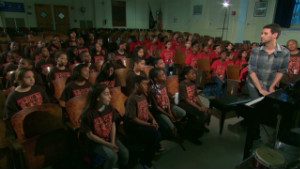 PS 22 gives tributes Whitney Houston
But it isn't her fame that will be most celebrated at the invitation-only funeral beginning at noon, said family friend and Pastor Marvin Winans.
Instead, the message to the 1,500 mourners expected to fill the red-brick church -- and the millions more watching on television or online -- will be reminiscent of words from Paul the Apostle.
"And now these three remain: faith, hope and love. But the greatest of these is love."
For a few hours Saturday, the story won't be about Houston's reported drinking days before she died or about the prescription pills being tested as investigators seek a cause of her still-unexplained death a week ago at the Beverly Hilton in Beverly Hills, California.
In Newark, 2,700 miles away from Los Angeles, they will remember the 11-year-old girl nicknamed "Nippy," who followed in the footsteps of her mother, Cissy, by singing in the junior gospel choir. They will remember Houston the superstar, returning for Easter Sunday services, never losing her roots after making it big.
They will remember, through tears and joy, that incredible voice.
Houston's family will be comforted by neighbors and fellow church members in what the family is calling a "home going" service, according to the funeral invitation that features a photo of a smiling Houston.
Still, the singer's death at age 48, after a much-publicized struggle with addiction and a tumultuous marriage to R&B bad boy Bobby Brown, has raised questions about fame and the fragility of life -- finding meaning in the unexpected loss of such a talented individual.
In the words of Winans, who will deliver the eulogy, "Faith plays a great part in how we cope with uncertainties in life. It is not something that we run from in difficulty, it is something we run to."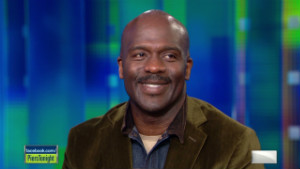 Bebe Winans: No one is to blame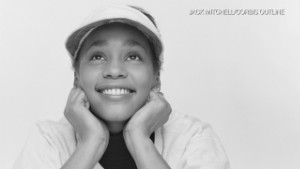 Whitney Houston: In her own words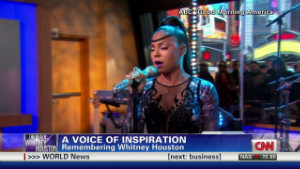 Ashanti blown away by Houston's kindness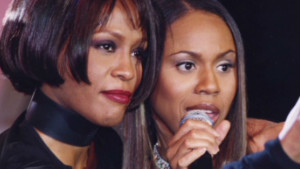 Cox remembers Houston as her mentor
That belief in God, and tradition, will permeate Saturday's service.
Friday night, Franklin paid tribute to Houston at a Radio City Music Hall concert in New York.
"We will always remember her kindness, her grace, her smile and her dynamic performances. But she's moved on up just a little bit higher now, and we don't wonder where she is," said Franklin.
The Houston family opted to forgo a public memorial service.
They didn't "want to have a parade," Winans told CNN's Anderson Cooper. Their message, he said: "We want to do this with dignity."
There will not be a customary funeral procession, Newark police Director Samuel DiMaio said Thursday. Houston's family and her body will arrive at an undisclosed time, he said.
"I would advise the public that there really is going to be nothing to see here at the church," DiMaio said. "The best thing to do would be to stay home and watch the service on television. .... The funeral is not going to be the traditional procession that we would normally have."
A perimeter has been set up for four blocks in two directions, and two blocks in the other directions, DiMaio said. The closest the public will be able to get is a staging area two blocks away.
Houston leaves behind an 18-year-old daughter, Bobbi Christina Brown; her mother, Cissy; brothers; a cousin; and a host of relatives and friends.
Cissy Houston and Bobbi Christina attended a private viewing Friday, accompanied by producer Clive Davis, a longtime mentor of the singer.
Born in 1963 in Newark, Houston had musical greatness in her blood.
Cissy Houston is a gospel great and cousin Dionne Warwick was a successful pop singer. Franklin is a close family friend.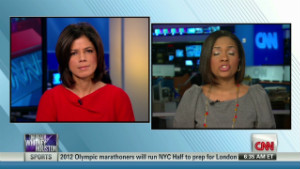 'Essence' editor on Whitney's rise, fall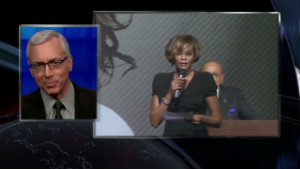 Dr. Drew on Houston's psychology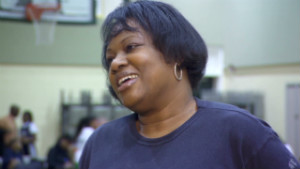 Community members remember Houston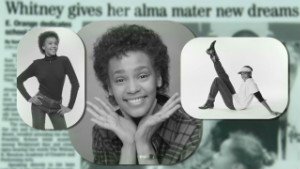 Whitney Houston's childhood
After various appearances while a teen and performing backup vocals for Chaka Khan on "I'm Every Woman," Houston had her big break.
As the story goes, Davis spotted Houston in 1983 in a New York nightclub performing and signed her on the spot. Houston released her debut album, "Whitney Houston," in February 1985 to wide acclaim.
A generation danced their way through the 1980s to a string of her hits, including the poppy "How Will I Know," "Saving All My Love For You," "I Wanna Dance With Somebody" and "The Greatest Love Of All."
Her rendition of "The Star Spangled Banner" at the 1991 Super Bowl and "I Will Always Love You" in the movie "The Bodyguard," in which she made her acting debut, cemented her superstar status.
But by the time the movie opened, Houston's clean-cut pop image had begun to tarnish with her marriage to Bobby Brown. The two met in 1989 and married three years later.
Their relationship became tabloid fodder, with every misstep chronicled and the couple's relationship a subject of constant speculation. Brown's notorious hard-partying led him to several run-ins with the law and stints in jail.
While Houston managed to maintain a successful music and movie career through the end of the 1990s, starring in "The Preacher's Wife" and "Waiting To Exhale," her behavior turned increasingly erratic amid reports of heavy drug use.
By the 2000s, her career was in free fall as her album sales dropped off and her voice began to show signs of wear. She and Brown divorced in 2007.
Recently, Houston was working to turn around her career -- and image -- with a star turn in the upcoming movie "Sparkle,'' the remake of a 1976 film that is said to be loosely inspired by the Supremes.
Pastor Winans' brother, Benjamin "BeBe" Winans, said his sister, CeCe, will perform "Don't Cry for Me" at Saturday's service.
Houston performed the song in many countries, Winans told A.J. Hammer of HLN's "Showbiz Tonight."
The song is about life, loss and hope.
"My death was meant to be
Don't carry guilt or shame
The reason why I came soon you'll see.
Don't cry for me"
CNN's Jason Carroll, Meghan Rafferty and Greg Botelho contributed to this report.