Gervais caused a stir when he took jabs at Mel Gibson and Sir Paul McCartney in 2010
His jokes at 2011 Golden Globe awards caused even more of a stir
The 2012 event poster shows Gervais snipping off the gag that covers his mouth
He's assured Twitter followers that he'll be drinking lager, ad-libbing and speaking his mind
(CNN) -- Like many awards shows, buzz surrounding the Golden Globes has long focused on questions like who will wear what, who's on whose arm and who will win a statuette.
But another critical question has emerged since Ricky Gervais first took the stage as the award show's host in 2010: Which celebrity will get roasted?
The British comedian caused quite the stir when he took jabs at Mel Gibson and Sir Paul McCartney at the 67th Golden Globes in 2010. Jaws again dropped in 2011 when he questioned the sexuality of "some famous Scientologists" before revisiting the troubled past of Robert Downey Jr.
Judging by the 2012 event poster, which features Gervais snipping off the gag that covers his mouth, Sunday's affair, when he hosts the soiree for the third time, may be rife with Gervais' trademark barbs.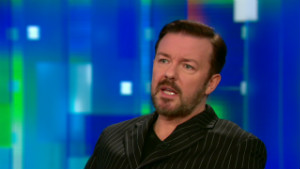 It's Golden Globes weekend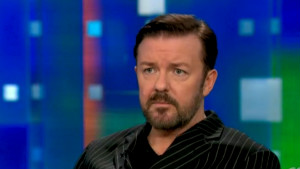 Gervais brushes off criticism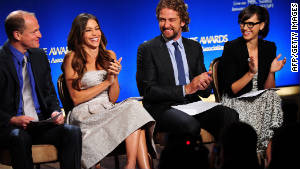 2012 Golden Globe nominations announced
Gervais has tweeted about his Globes game plan in the days leading up to the show: "I keep having to write new jokes as I pick my victims, I mean targets, I mean presenters to introduce. Some great people have confirmed."
He even assured Twitter followers that he'll be drinking lager, ad-libbing and speaking his mind: "No one knows what I'm going to say until I say it. That was my only stipulation to host again."
Though he's already been criticized for offending a slew of big-name celebrities and members of the Hollywood Foreign Press Association, which runs the awards show, Gervais shouldn't -- and wouldn't -- consider toning down his act, said Gregory Ellwood, the editor-in-chief of HitFix.com.
"I think he actually feels empowered by the reaction every year," Ellwood said.
Gervais recently told "Today's" Matt Lauer that, despite making such "offensive" jokes, he has no trouble sleeping at night.
"I think offense is taken, not given," he said. "If you don't let yourself be offended, you're not offended. ... My conscience never takes a day off. Some people are just offended and you can't really worry about them."
Later in the interview, Lauer said the media have referred to the soon to be three-time host as a genius, prompting the comedian to let out a boisterous laugh.
But Ellwood said Gervais is certainly something of the sort.
"It's not as easy to be outrageous and biting and funny at the same time as it might seem," Ellwood said, noting that Gervais has pulled it off twice already.
"His Sheen joke was comedy gold for me," Ellwood said referencing Gervais' quip about the former "Two and a Half Men" star's typical breakfast of partying and heavy drinking. "He couldn't avoid it."
The rest of Gervais' material, however, wasn't so obvious.
With the exception of jokes about Ashton Kutcher and, possibly, Katy Perry and Russell Brand, Ellwood says to expect the unexpected at the 69th Golden Globes. Unless the expected is a whole lot of industry jabs, that is.
Ellwood said many of the jokes will most likely be at the expense of director Brett Ratner, who stepped down as Oscar producer after making an anti-gay slur, and Eddie Murphy, who made the decision not to host after the controversy. (Billy Crystal will host the event for the ninth time come February 26.)
"He'll rip the HFPA, Dick Clack Productions and NBC," who are involved in a legal row over the TV rights to the awards show, Ellwood said.
Gervais went after the Hollywood Foreign Press Association last year when he insulted "The Tourist" stars Angelina Jolie and Johnny Depp.
"He wasn't really knocking (the actors). He was knocking the HFPA (for nominating the film) and then (Jolie and Depp) for showing up," Ellwood said.
But, truth be told, Ellwood added, the association most likely wants Gervais to say something that will wind up at the water cooler the next day.
Regardless of how many people Gervais offends in the process, he continues to rebuild the Globes' reputation after a disappointing show in 2008. A mere 6 million viewers tuned in that year, when the Writers Guild of America boycotted the event. In 2011, Gervais' biting humor helped reel in about 17 million viewers.
What's working so well for Gervais had the opposite effect on controversial Oscar hosts David Letterman and Chris Rock, whose bits didn't sit well with critics, Ellwood said.
Awards show hosts aren't supposed to insult people in the audience, he added.
"The way Ricky sees it, he'll never host the Oscars," Ellwood said. "He takes it from that point of view, so he has no problem insulting people. There's no reason not to."
Gervais confirmed his no holds barred approach on his blog in December: "I would say that there's nothing too offensive in there, but I honestly thought that last year. So I'm not sure of the rules anymore."
The comedian's advice for the easily offended? "Don't worry about it."