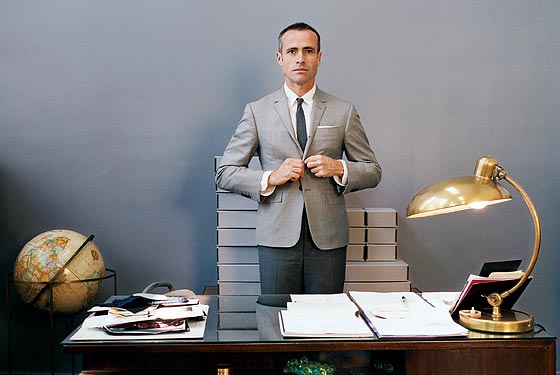 (Photo: Joseph Maida)
He lives a quiet life," says menswear designer Thom Browne. He's describing his muse, who is imaginary but fully realized. "He kind of does his thing and he has his life, and ­everything is very understated. His house is very lived in, but in a good way. It's not interior-decorated or anything like that, but it is decorated. He's health-conscious, but not too. He eats well, but he's not preoccupied: He will have cream and butter, and he will drink. And he's nice."
Browne, who won this year's Council of Fashion Designers of America award for menswear designer of the year (an honor that in recent years has gone to Marc Jacobs, Michael Kors, Helmut Lang, and John Varvatos), is sitting on a leather sofa at Soho House, a block from his studio. He's wearing a gray tropical-weight wool suit that looks like it's been tossed in the dryer. There are about four inches of ankle visible on each leg, and he's not wearing socks. The jacket is teeny-tiny, too, and his narrow gray tie is tucked neatly into his trousers and secured to his shirt placket with a flat horizontal clip. The buttons on his button-down collar are undone, and everything is narrow, narrow, narrow. His features are symmetrical, his hair buzzed flat; the effect is equal parts fifties, military, and midwestern.
But in a world populated by men who seem incapable of moving on from the baggy T-shirts and jeans of their adolescent wardrobe, Browne's strictness feels entirely fresh. He has no formal ­fashion-design training; still, in the five years since he started his line, he's become a force in advancing the geek-chic, too-tight, hip-to-be-square aesthetic that is popping up everywhere from Wes Anderson movies to the runways of Milan. And he's managed to do something traditional menswear manufacturers were starting to give up on: He made the suit cool again. Even the behemoth Brooks Brothers is starting to show narrower cuts.
"Thom's suit is the new expression of the suit," says Tommy Fazio, men's fashion director at Bergdorf Goodman. "He's ­really influencing everyone. I see his shape echoed throughout the market. But no one does it like Thom. And in the store it's gotten to the point where guys just come in and say, 'Where's the Thom Browne?' You hear it as much as 'Where's the ladies' room?' these days."
Browne went to Notre Dame as an undergraduate, where he got a business degree. Post-college, he moved to Los Angeles to try acting, and got some work, commercials mostly. But he was far more interested in the new hobby he and his friend Johnson Hartig (now co-designer of the trend-setting Libertine label) had begun, playing around with vintage clothes. Browne would bring home old suits and tuxes and cut them down, down, down. He wore them around L.A., a city where "fashion" is often confined to the wash of one's jeans. "I feel like jeans and a T-shirt have become Establishment," he says. "Everyone's dressed down. So actually putting on a jacket is the anti-­Establishment stance." It's a fetishized, black-and-white-movie masculinity Browne has for sale, one in which male pedicures and Jamba Juice have no place at all. Which is not to suggest that Browne's masculinity is not similarly fussy: It's a different package, but it's as much for the vain and image-conscious guy as a pair of carefully distressed, very expensive organic-cotton jeans by Rogan.
Once he realized that acting was not going to happen, Browne sold his car and moved to New York in 1997. A friend helped him get a job selling in Giorgio Armani's showroom. From there, he moved to Club Monaco, owned by Polo Ralph Lauren. Lauren picked up on Browne's nascent creative mettle and put him to work in Club Monaco's design and merchandising departments.
He left Club Monaco in 2001 to launch the Thom Browne label, on the hunch that "business casual" had left men looking cruddy enough that a sharply tailored suit might suddenly appeal to the hip and aesthetically inclined. He couldn't afford to manufacture a full collection, so he made five suits for himself and began wearing them around town. He begged friends to buy from him. Browne works out his ideas with the help of an old Italian menswear tailor—whose name he refuses to divulge for fear of poaching. "He's a godsend," Browne says. "He's been doing this for 60 years, so he knows how to construct on the body. Sometimes I throw him things, like really short trousers. He kind of smiles because he knows why I want to try it. And he never fights me. A lot of tailors would say, 'What are you doing this for?' "
Continue Reading →