"The Walking Dead" returns in just over a month, but fans got a little waiting gift from AMC on Tuesday, when the network dropped the poster for Season 5.
"Hunt or Be Hunted," read the tag line on the key art for Season 5.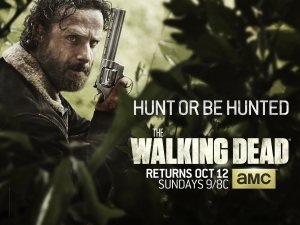 (Photo Credit: AMC)
The poster features Andrew Lincoln's Rick Grimes, not where we left him (in a train car at Terminus), but crouching in the shrubs and brandishing his trusty gun.
PHOTOS: Key Art & Promo Posters From Your Favorite TV Shows
"The Walking Dead" returns October 12 at 9 PM ET/PT on AMC.
-- Jolie Lash
Copyright 2014 by NBC Universal, Inc. All rights reserved.
This material may not be published, broadcast, rewritten or redistributed.