Red was a big trend at Monday night's Emmys with quite a few stars donning the bold color. January Jones and Claire Danes both went with crimson gowns and the lips to match. Claire's lips were on the glossy side, while January's were matte. Here's the beauty breakdown for both ladies.
Claire Danes
(Photo Credit: Steve Granitz/WireImage)
Makeup By Celebrity Makeup Artist Matin
INSPIRATION: Claire chose to wear an amazing red dress with red dragonflies made of beads and lace. I love her in bright lips, and I didn't want to do the usual smoky eyes and pale lips "opposite of the dress color" cliche. I wanted her fresh and gorgeous, and nothing dresses up a face better than the perfect shade of red.
PHOTOS: Emmys 2014: Ladies In Red!
LIPS: Claire's dress was a really beautiful bright red, but the details were a deeper maroon. I wanted to find a meeting point between the two. After lining lips with Chanel Precision Lip Definer in Rouge Profond (all makeup for both stars' looks is by Chanel), I applied Rouge Allure Velvet Luminous Matte Lip Colour in La Flamboyante (available October 2014), followed by Rouge Allure Gloss Colour and Shine Lipgloss in Pirate (available November 2014).
FACE: With Foundation Brush #6, I applied Perfection Lumiere Velvet Smooth-Effect Makeup Broad Spectrum SPF 15 Sunscreen in 40 Beige to even out the skin. I created rosiness on the cheeks with Cream Blush in Chamade, then applied Joues Contraste Powder Blush in Plum Attraction just to the apples of the cheeks.
EYES: I prepared the lid with Professional Eye Shadow Base, which I love. Claire's eye shadow was mostly the black shade from Quadra Eyeshadow in Tisse Riviera, with a touch of the quad's silver shade and a gold shadow, Ombre Essentielle Soft Touch Eyeshadow in Admiration. To create definition, I applied small dots of Automatic Liquid Eyeliner in Noir between the lashes, so that when I added a coat of Inimitable Waterproof Mascara in Noir, the lashes looked incredibly full.
PHOTOS: Emmys 2014: 66 Flashback Looks We Love
January Jones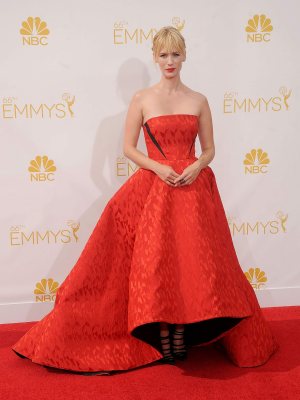 (Photo Credit: Gregg DeGuire/WireImage)
Makeup By Chanel Celebrity Makeup Artist Rachel Goodwin
INSPIRATION: For January's Emmys makeup, I was inspired by classic 1950s beauty with a little bit of an edge. Her dress had a dramatic '50s couture feel with very modern details, so I decided to take my direction from that.
LIPS: I painted January's lips a bold red, Rouge Allure Luminous Intense Lip Colour in Coromandel, keeping to her natural shape and outlining the edges with a tiny bit of Eclat Lumiere Highlighter Face Pen for longevity. This helps make sure the lip is perfect, but not harsh.
FACE: I wanted the skin to look very refined. We were going for that soft, '50s glamour. I applied Perfection Lumiere Velvet Smooth-Effect Makeup Broad Spectrum SPF 15 Sunscreen in 10 Beige, starting at the center of the face, then blending with a Beauty Blender sponge all the way to the edges and down the neck. I didn't use any blush so that the look wouldn't appear overdone.
WATCH: Emmys 2014: Style Report Card
EYES: I applied Les Beiges Healthy Glow Sheer Colour SPF 15 in N°10 over the entire eyelid, then swept shade N°30 along the brow bone for depth. I created an elongated black cat eye using Eyeliner Pen in Noir, extending far beyond her natural lashline for a dramatic effect. To get the shape exactly right, I used Stylo Yeux Waterproof Long-Lasting Eyeliner in Noir underneath, sketching out the outer corners, then working in delicately.
-- Ryan Patterson
Copyright 2014 by NBC Universal, Inc. All rights reserved.
This material may not be published, broadcast, rewritten or redistributed.