Chris Pratt won over the hearts of the kids at Children's Hospital Los Angeles when he made a surprise visit dressed as his Star-Lord character from "Guardians of the Galaxy."
Not only did the actor set up a special screening of the Marvel movie for patients, families and staff at the LA area hospital, he also appeared in full costume and came with toys, Children's Hospital confirmed to AccessHollywood.com.
"Star Lord (@prattprattpratt) cheered up our patients by sharing #GuardiansOfTheGalaxy! Thanks for making them smile!" Children's Hospital Los Angeles said in a Tweet, accompanying a photo showing the actor giving a young patient his character's coat to wear.
PHOTOS: Chris Pratt's Hollywood Transformation
The 35-year-old actor spent three hours in costume with the kids, where he handed out "Guardians" toys. Chris also went to the hospital's Bone Marrow Transplant Unit, where he met and visited with kids who were too sick to attend the movie screening.
WATCH: Chris Pratt Raves Over 'Guardians Of The Galaxy'
One patient, who is a major Lego and "Lego Movie" fan, recognized the actor's voice from the animated movie and they spent 10 minutes reciting scenes together.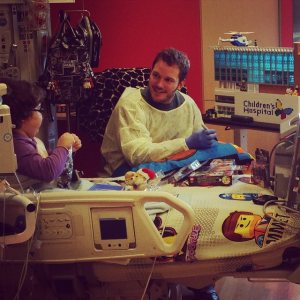 (Chris Pratt visits kids at Children's Hospital Los Angeles on August 20, 2014 - imgur)
"[Chris] left behind a lot of big smiles and priceless memories, which are so important to keeping these kids' spirits up throughout their healing process. Everyone was so grateful," a Children's Hospital Los Angeles said in a statement.
-- Jesse Spero
Copyright 2014 by NBC Universal, Inc. All rights reserved.
This material may not be published, broadcast, rewritten or redistributed.