Who doesn't love a little southern comfort in the kitchen? Fried chicken, biscuits & gravy and homemade pecan pie are all southern-style classics.
While, the cooking might come from the heart, these high calorie dishes go straight to the hips.
Nutritionist and author of "The Slim Down South Cookbook" Carolyn O'Neil visited Access Hollywood Live to show how to slim down a few of her favorite southern dishes.
Skillet Fried Chicken: Makes 4 servings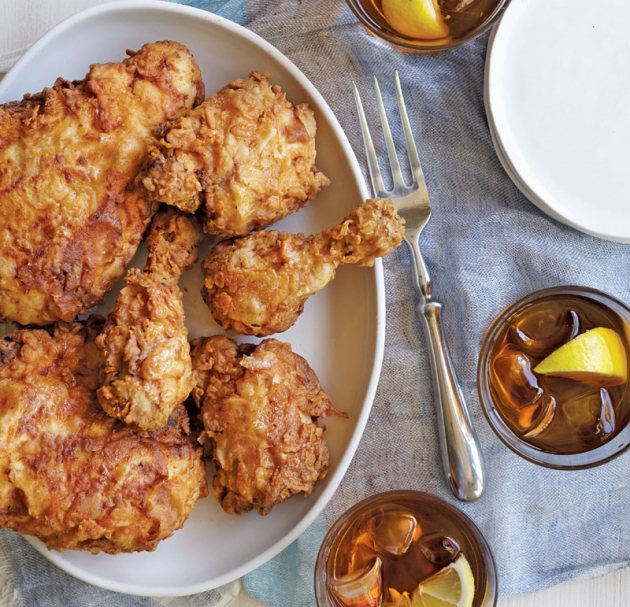 1 cup all-purpose flour
1/2 cup whole wheat flour
1 tsp. ground ginger
1/2 tsp. hot paprika
1/2 tsp. fine sea salt
2 bone-in chicken breasts, skinned and halved
2 bone-in chicken thighs, skinned
2 chicken drumsticks, skinned
1/4 cup peanut oil
Sift together first 6 ingredients; place mixture in a large zip-top plastic bag. Sprinkle salt evenly over chicken. Add chicken, 1 piece at a time, to bag; seal. Shake bag to coat chicken. Remove chicken from bag, shaking off excess flour. Place chicken on a wire rack; place rack in a jelly-roll pan. Reserve remaining flour mixture. Loosely cover chicken; chill 1.5 hours. Let chicken stand at room temperature 30 minutes. Return chicken, 1 piece at a time, to flour mixture, shaking bag to coat chicken. Discard excess flour mixture. 2. Heat peanut oil in a large skillet over medium-high heat. Add chicken to pan. Reduce heat to medium-low, and cook 25 minutes or until done, carefully turning every 5 minutes. 3. Line a clean wire rack with brown paper bags; arrange chicken in a single layer on bags. Let stand for 5 minutes.
Crunchy Pecan Slaw: Makes 10 servings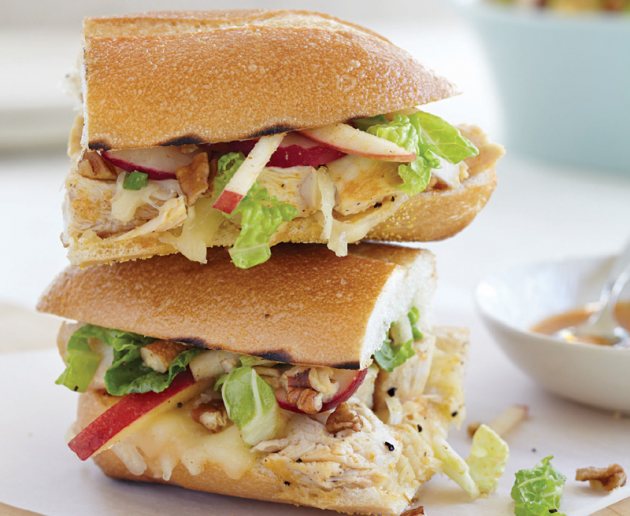 1 head napa cabbage, cut into thin strips
1 Braeburn apple, cut into thin strips
1/2 cup sliced radishes
1/2 cup Sweet-and-Spicy Dressing
3 green onions, sliced
1 cup chopped toasted pecans
Toss together cabbage and remaining ingredients in a large bowl until blended.
Sweet & Spicy Dressing: Makes 12 servings
1/4 cup lemon juice
1/4 cup honey
2 Tbsp. hot sauce
2 Tbsp. canola oil
1 tsp. celery salt
1/4 tsp. black pepper
Whisk together all ingredients in a small bowl. Store in refrigerator in an airtight container up to 3 days.
Roasted Red Bliss Potato Salad: Makes 9 servings
2 lb. small Red Bliss potatoes, quartered
2 Tbsp. olive oil
1/3 cup creme fraiche
3 Tbsp. Champagne vinegar or white wine vinegar
2 Tbsp. minced shallots
1 tsp. fresh lemon juice
1 tsp. Dijon mustard
1/2 tsp. table salt
1/4 tsp. freshly ground black pepper
2 Tbsp. chopped fresh chives
1 Tbsp. chopped fresh parsley
Preheat oven to 400F. Toss together potatoes and oil; place in a single layer on a jelly-roll pan. Bake at 400F for 30 to 35 minutes or until lightly browned. 2. Meanwhile, whisk together creme fraiche and next 6 ingredients in a large bowl. Remove potatoes from oven, and add to creme fraiche mixture. Add chives and parsley, tossing gently to coat. Serving size 1/2 cup.
Mini Berry Cobblers: Makes 12 servings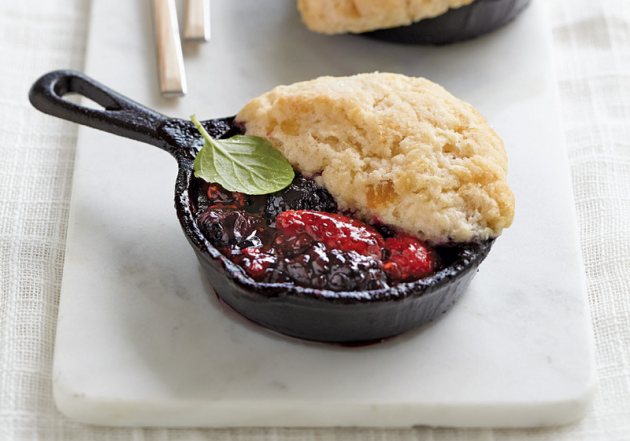 18 oz. mixed fresh berries (4 cups)
1/4 cup sugar
1 Tbsp. butter, melted
1 Tbsp. cornstarch
1 1/2 cups all-purpose flour
1/3 cup sugar
3 Tbsp. minced crystallized ginger
2 tsp. baking powder
1/2 tsp. table salt
1/2 cup cold butter, cubed
1/2 cup low-fat buttermilk
Garnish: fresh mint sprigs
Preheat oven to 400F. Toss together first 4 ingredients in a medium bowl. Whisk together flour and next 4 ingredients in a large bowl. Cut cold butter into flour mixture with a pastry blender or fork until crumbly. Add buttermilk, stirring just until dry ingredients are moistened. Turn dough out onto a lightly floured surface, and knead 3 or 4 times. Pat into a 6x4-inch (1-inch-thick) rectangle. Cut rectangle into 6 squares; cut squares diagonally into 12 triangles. Arrange 12 (3.5-inch) lightly greased miniature cast-iron skillets on an aluminum foil-lined baking sheet. Divide berry mixture among skillets. Place 1 dough triangle over berry mixture in each skillet. Bake at 400F for 20 to 24 minutes or until fruit bubbles and crust is golden brown. Cool 15 minutes before serving. Serve warm or at room temperature. Serving size 1 cobbler.