A threat about a St. Petersburg concert prompts the embassy's warning
A spokeswoman for the singer says concerts are going on as scheduled
Madonna performs before crowds in Moscow, supporting jailed punk band
(CNN) -- Russian authorities were stepping up security after a threat of violence at Madonna concerts this week, the U.S. Embassy in Moscow warned.
"The U.S. Consulate General in St. Petersburg has received information regarding a threat of physical violence against spectators and performers at the St. Petersburg concert on August 9," the embassy said in a statement.
State Department officials did not provide details about the reported threat targeting Madonna's Thursday show in St. Petersburg.
"U.S. citizens are reminded to remain vigilant regarding their personal security, and to be aware of their surroundings at all times, especially in crowded areas," the embassy said.
Liz Rosenberg, a spokeswoman touring with Madonna, said the singer was aware of the threat and the embassy's warning.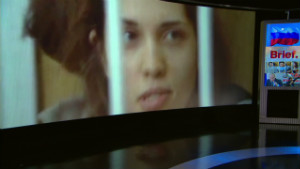 Husband of jailed Pussy Riot band member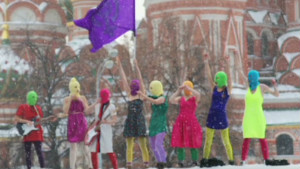 Russian punk rock band on trial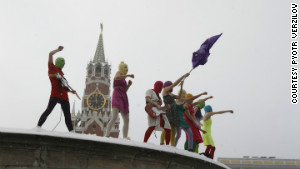 Female punk band mocks Putin, is jailed
"Concerts are going on as scheduled," Rosenberg said.
Madonna performed Tuesday night at a packed Moscow stadium.
During the show, the singer joined a chorus of musicians who say they support the punk rock band Pussy Riot, whose members were charged with hooliganism after performing a song critical of Russian President Vladimir Putin in one of Moscow's grandest cathedrals.
Madonna said she was praying for the three band members, who went on trial Monday and face up to seven years in prison if convicted, the state-run RIA Novosti news agency reported
"Everyone has the right to free speech, everywhere in the world. Maria, Katya, Nadia, I pray for you," Madonna said at Tuesday's concert, according to RIA Novosti. "They did something brave with their action. And I am praying for their freedom."
"Are you with me?" Madonna shouted. According to the state news agency, thousands of fans cheered, "Yes!"
Music stars including Pete Townshend of The Who, Alex Kapranos of Franz Ferdinand and Corinne Bailey Rae have also called on Russia to free the band members.
Pussy Riot specializes in sudden, often illegal public performances, including one in Moscow's Red Square.
In February, they screamed "Mother Mary please drive Putin away" during a concert inside Christ Savior Cathedral, outraging many of the country's faithful.
The punk prayer was inspired by the women's anger about the relationship between the Russian government and the Orthodox Church, according to the band's manager, who is married to one of the suspects.
The Orthodox leader Patriarch Kyril has been widely reported as saying Putin's years in power have been a miracle from God.
CNN's Rachel Wells, Zarifmo Aslamshoyeva, Elise Labott and Jill Dougherty contributed to this report.