Nicollette Sheridan takes the stand Thursday in her case against producer Mark Cherry
Lawyer: Cherry "... smacked Nicollette Sheridan on the side of the head -- hard" on set
It was "a light tap on the head" to demonstrate "physical humor," Cherry's lawyer says
Eva Longoria and other cast members are expected to testify
Los Angeles (CNN) -- Former "Desperate Housewives" actress Nicollette Sheridan is scheduled to testify Thursday in a courtroom battle with the show's producer-writer over the TV killing of a character she played for five seasons.
Sheridan, 48, is locked in a courtroom battle against Mark Cherry and ABC Entertainment, claiming their decision to kill off Edie Britt, her character on the show, was wrongful termination of her employment.
Several of Sheridan's former cast mates -- including Eva Longoria, Marcia Cross, James Denton, Felicity Huffman and Neal McDonough -- are on the list of witnesses expected to defend Cherry.
The actress wiped tears after her lawyer Mark Baute concluded his opening statements Wednesday in the Los Angeles trial that is expected to last two weeks.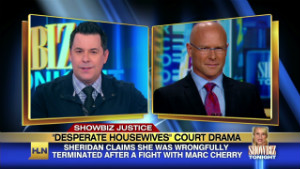 'Desperate Housewives' court drama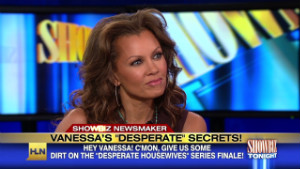 'Desperate Housewives' the movie?
Cherry "lost his temper on the set and smacked Nicollette Sheridan on the side of the head -- hard," Sheridan's attorney said.
It happened after she raised a question about the script Cherry had written for a scene in the seventh episode of season five, he said.
Jurors must decide whether Cherry committed battery in the September 24, 2008 rehearsal and if his decision to end her work on the show was retaliation for her complaints against him.
Several months and 11 episodes after she complained, Sheridan was written out of the show, Baute said.
Cherry's lawyer disputes the description of a hard hit, saying witnesses will testify if was "a light tap on the head" intended to demonstrate "a piece of physical humor" Cherry wanted her to perform in the scene.
The decision to kill off Britt was made months earlier, he said.
The trial opens the curtain on a rarely seen aspect of Hollywood, the closely guarded production of a hit television show.
The "very poorly written" episode was like "a triple homicide," Baute said. Britt barely escaped strangulation and a car crash before suffering "death by electrocution."
Television writers must "shock and surprise" viewers with pregnancies, affairs, marriages, divorces and deaths to "keep them on the edge of their seats," defense lawyer Adam Levin told the jury in his opening statement.
"The unanticipated death of a prominent character can shock the viewing audience and energize the show," which Levin said can "lead to watercooler talk and media buzz," increasing ratings.
Cherry decided Britt must die in May 2008, four months before he allegedly hit Sheridan, Levin said. Show writers, ABC senior executives and Cherry's assistants would testify to that, he told jurors.
Two former show writers will testify in support of Sheridan, saying that Cherry never told them that Britt would be killed off, Baute said.
As evidence of the prior decision, jurors will be shown an index card created at a writer's meeting in May 2008 that reads "Steve drinks OJ." It was a code for the idea that Sheridan's husband would cause her death, a reference to O.J. Simpson, Levin said.
The demise of Sheridan's character was considered at the end of the third season, which ended with Britt's head in a hangman's noose, but a senior executive decided it was too soon for her to go, Levin said.
The character was not initially intended to be on the show beyond the pilot episode, but Cherry decided to make her the "blond bombshell who would sleep with the husbands of all of the wives," he said.
After five seasons, "writers could only do so much with the character," Levin said. "There were only so many husbands she could sleep with."
Sheridan's lawyer accuses Cherry's defense of an "effort to backdate the decision" with a fake story that the character's death was planned months before the hitting incident.
Producer's picked up Sheridan's option for a new season, guaranteeing her $4 million for year, just two weeks after they allegedly decided to cut her character from the show, Baute said.
A former NBC network executive will testify that star characters are never killed off in prime time comedies because it disappoints the fan base, Baute said.
The defense countered, saying several other named characters died by suicide, poisoning and beatings in "Desperate Housewives" episodes.
ABC Entertainment is a defendant in the lawsuit because its executives allegedly failed to properly investigate the accusation that Cherry hit Sheridan on the set and then agreed with the decision to fire her.
Although a line producer reported the incident to the studio's human resources department, there was no investigation until an ABC senior executive saw a National Inquirer story about it at a grocery store two months later, Baute said.
What followed was a "fake" investigation designed "to protect the money machine known as 'Desperate Housewives,'" he said. "Nobody wants the 'Desperate Housewives' applecart turned upside down."
The human resources investigator never interviewed Cherry or Sheridan about the incident, only three people who worked for Cherry, Baute said.