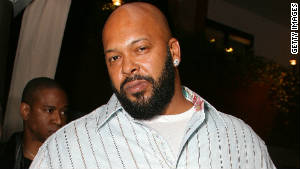 Traffic stop leads to drug charge, Las Vegas police say
Impresario cited for bad lane change, released
(CNN) -- Rap music mogul Marion "Suge" Knight was charged with marijuana possession after he was pulled over by Las Vegas police for an alleged traffic violation, police spokesman Laura Meltzer said Thursday.
Patrol units stopped the black Bentley that Knight was driving Wednesday evening and police found he also had three outstanding traffic warrants, Meltzer said.
A search of the vehicle found less than one ounce of marijuana, police said.
Knight was also ticketed for making an unsafe lane change, Meltzer said.
He was released on his own recognizance, she added.